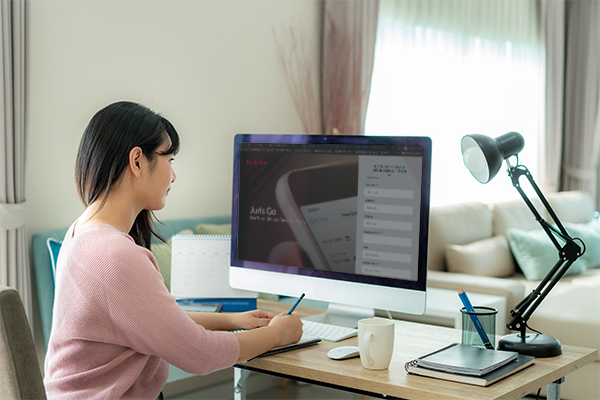 During these times, we understand that it may be more challenging to keep it "business as usual" while working from home. To help ease the transition from office to home, and to help ensure that you can operate your business as easily and efficiently as possible, the LexisNexis® Juris® team put together Your Essential Guide to Working from Home with Juris.
In addition, you can still count on us to help with any questions or concerns. And we look forward to helping you make the most of your Juris software or helping you develop a contingency plan to meet the needs of your firm—whether you're working at the office, at home, or on the go.
Follow the Juris guide below to ensure comfortable and seamless working conditions at home:
Verify how you will connect to the office:

Remote Desktop (fully supported by Juris), OR
VPN (not supported for Juris at this time, though may still work with slight delays)
Verify your Juris license at home from a work or personal computer:

Once connected to your office's network, ensure you can see the drive where the Juris license resides.
Verify the location of the Juris License thru License Manager that's located in c:\program files\juris2\bin\Juris License Manager.exe:

Left click on the license number on the left pane, and there you'll see the path to the location of the license file.

Ensure connectivity to Juris with these steps:

Make sure you can see the settings on your computer as Connectivity Settings
Check AV Exclusions to ensure antivirus exclusions are set
Check that no real-time scan programs such as Trend Micro are scanning the Juris or Juris Suite folders on the computer that you're using
Add exceptions: Windows Firewall Exceptions
Using one screen at home versus multiple screens at the office:

Click

 

here

 

to download our Single vs. Multi Monitor PDF for tips on easily viewing the content in your Juris/Juris Suite windows.
Solutions for issuing checks:

Pay via ACH whenever possible.
Print using a laser printer at home and mail:

Arrange for a signature stamp at the bank.
Solutions for processing deposits:

ClientPay®

 

makes it easy to receive and process payments from clients—users save an average of 17% on processing fees and reduce billing cycles by 50%. Click

 

here

 

for more information on ClientPay.
Use a check scanner that goes directly to your bank.
Enter time using Juris Go:

If any of your attorneys need an alternative option for entering time, we are offering 30 complimentary licenses through the end of April. For more information,

 

contact

 

us today
Printing Prebills / Converting Final Bills to PDF:

Create shared folders on the server with each Billing Timekeeper's Name:

Billing Timekeeper Name\Prebills
Billing Timekeeper Name\Prebills\To Be Edited Prebills

Print prebills to PDF by Billing Timekeeper and place in the appropriate network folder:

Juris users with version 2.61, you'll need a PDF creator such as

 

Bullzip.
Juris users with version 2.8x and above can use Adobe. If you don't have the latest version of Juris, learn about the update now by clicking

 

here.

When ready, modify the Adobe document and place in the To Be Edited Prebills folder.
As needed, billing staff can edit prebills as normal.
Emailing final bills to clients:

You can export final bills to PDF using the Export and Email function in Juris.
Details to keep in mind:
Have you determined your remote client intake process?

Reach out to your local courts for information on filing court documents electronically.

Is your website updated with appropriate messaging?

Have you modified your in-house client and/or internal appointments with electronic meetings?

You can use Webex, Zoom, or Teams

Is your staff prepared with documentation they might need while out of the office?

Do your Juris / Juris Suite users have customer support contact information?

Tiered Service Plan Clients: jurisproserv@lexisnexis.com
Response Center Service Plan: 877-377-3740

Are your firm's templates in an accessible location for you as well as all necessary users?
If you have any questions or need assistance, the Juris support team is here for you. Please feel free to contact your Juris Account Manager, Kendra Gebhart, anytime.