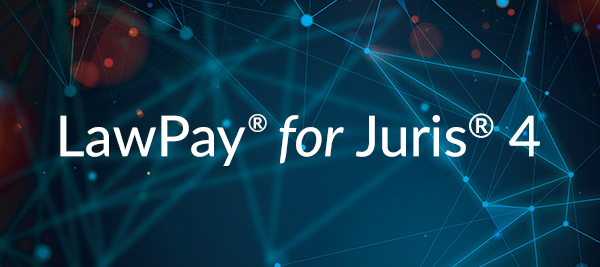 With each new software update, Juris adds valuable benefits for its customers. Juris 4.0, just launched Jan. 31, 2023, now includes full integration with LawPay. This critical feature allows law firms to provide payment links for accounts receivable and trust, so their clients can pay by credit card or e-check, if applicable. Now, when financial managers log into LawPay, they get a bird's- eye, full-integration view of clients, matters and outstanding bills.
"Cash collection is now easier and faster, and reconciliation is efficient," said Michele Bullington, Juris Product Manager. "Firms have the capability to provide a unique payment link to their clients or matters giving the ability to accept credit card payments anywhere and anytime. Law firms realize faster influx of cash to their bottom line. Juris has the utmost confidence in LawPay as a partner to meet our customers' needs and help them scale and grow."
With the update to Juris 4.0, users have more than 40 usability resolutions, including new LEDES98BI format for mandated billing via export billing. In addition, the update provides the ability to uncheck/check groups of bills under Export and Email bills. Estimates show that law firms can save up to 17 percent on processing costs and cut time in half to collect, manage and process payments.
To take full advantage of LawPay for Juris 4, upgrade to Juris 4.0 certified with the newest versions and updates for Microsoft® and SQL Server. There is no fee to upgrade. You simply need to have a LawPay account and be on Juris 4.0. Some Juris customers remain on older software versions like 2.61. Microsoft will cease support of these Visual Basic versions, and although the date is unknown for that to happen, Juris is aware it's coming. Every Juris customer needs to make a dedicated effort to update their software to LawPay for Juris 4.  Please feel free to contact our Juris customer support to assist you with an upgrade.