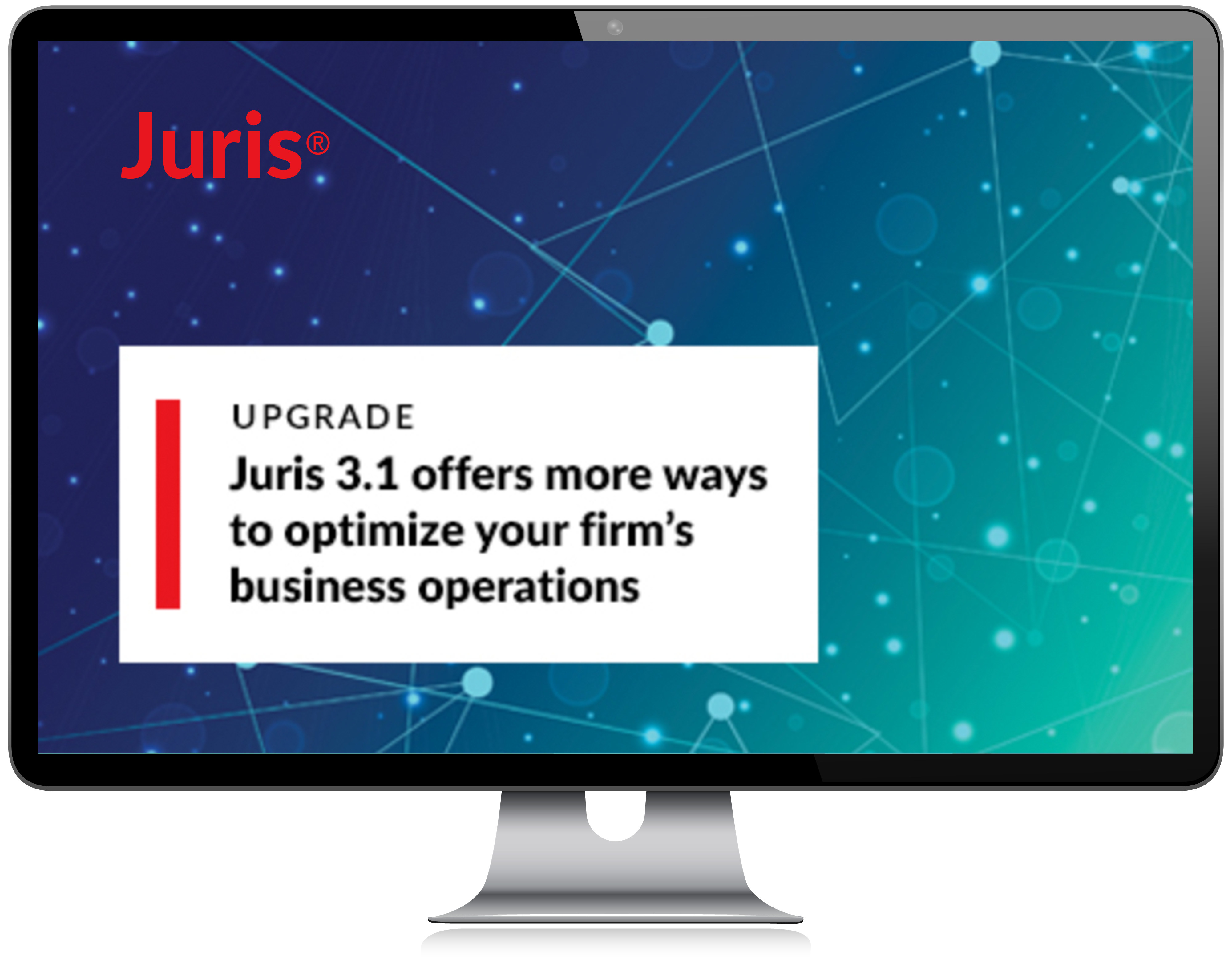 HIGHLIGHT
Upgrade to Juris 3.1 today
The LexisNexis® product team is taking LexisNexis® Juris® even further with Juris 3.1. The recent upgrade delivers new value to your firm by adding ClientPay® options for increased user convenience, allowing you to accept and seamlessly process credit card transactions for matter trust account payments. Upgrade to Juris 3.1 today to experience next-level enhancements that continue to make your timekeeping, billing, and accounting more valuable and more seamless to use.
Read our latest blog post to find out why you should keep your software and apps updated. Contact our Professional Services team via email at JPS@lexisnexis.com and they will make updating simple and easy.
Designed to improve efficiency in the areas that impact your firm the most, Juris 3 delivers time, billing, analytics, and accounting software to help you optimize productivity and profitability.
Built as the starting point for a new generation of Juris software, Juris 3 is enhanced with ClientPay® integration for improved collections and e-Billing, along with reporting capabilities to make informed business decisions that are based on easily accessed data.
Key Benefits of Juris 3 and ClientPay® Integration
Save up to 17% on processing costs
Cut time managing and processing payments by half
Give clients easy payment options, including a link via email
Process credit card transactions for matter trust account payments
Key Benefits of Juris 3 Reporting
Find the right report quicker and easier
View reports with more parameters, grouping levels, timekeeper options, search options, and more
Export Microsoft® Excel® reports formatted for printing and viewing
Even More Benefits of Juris 3
Work seamlessly with over 25 usability enhancements
Email templates allow you to include text when using the Export and Email Bill feature
View client email addresses in Client/Matter Inquiry
Added client code and matter code on ClientPay® Invoice Payment Page
Date selection retained for editing transactions
Clear prebill preferences
Juris Suite Client Installation improvement
We encourage you to upgrade to Juris 3.1. Our latest technology is fully supported by Microsoft®—upgrading ensures that your Juris software is compatible with new versions and updates of Microsoft® and SQL Server®.

Juris 3.1 expands ClientPay benefits with online trust account payments
The recent Juris 3.1 upgrade has next-level enhancements, allowing you to accept client trust payments online through the Juris and ClientPay® integration, saving clients the need to pay by phone, mail, or in person. This additional ClientPay® feature also helps streamline receiving and recording trust payments with improved accuracy and efficiency, while reducing the time it takes to manage transactions.
Visit LexisNexis University and watch our step-by-step video on configuring Juris to work with ClientPay® Trust. LexisNexis University has additional instructor-led courses, webinars, and on-demand videos to ensure that you're getting the most from your LexisNexis financial management solutions.
Take advantage of Juris courses that cover:
ClientPay® integration
Budgeting
Billing
Juris Go
Juris Suite
And more!

Juris Billing – Emailing Bills in Juris 3.1
Juris 3.1 upgrade delivers an improved email billing with the Export/Email Bills feature that sends bills quickly via email to clients. It also has email templates that include custom verbiage in the body of the message and all bill format components are combined into one email.
Register today and join us on Tuesday, April 20 from 1:30 – 2:30 pm ET to learn improved email billing by using the Export/Email Bills feature in Juris 3.1.

Juris Professional Services Plan
Partner with our Juris Professional Services team and get expert solutions that will improve your firm's operational efficiency and boost your firm's productivity. You can rely on the Juris Professional Services team for:
Implementing and onboarding new Juris modules/upgrades
Providing new-user and advanced-user onboarding for Juris
Creating customized reports for Juris and workflows/processes for your firm
Finding solutions to operational challenges that slow down or prevent processes
Assisting with any transition or upgrade due to the discontinued support for Microsoft® Access®, effective last December 31, 2020
Our Professional Services team will create a customized plan with recommendations based on your firm's goals. You'll be able to set milestones to track your progress and choose the Professional Services plan that fits your firm best.

Juris Toolbox
Developed by the Juris Professional Services team, the Juris Toolbox offers premium utilities that improve efficiencies, helping Juris users simplify day-to-day operations and complete tasks more quickly. Now, Juris Toolbox optimizes your Juris experience even more with its latest utilities.
View the Newest Utilities Inside the Juris Toolbox to Help Boost Operational Efficiency
Distributed Reports Removal Utility – Allows the user to delete distributed reports based on employees and a time frame.
Distribution Reset Utility – Will reset all Report Distribution Dates to a selected date. The user has the option of only selecting Active distributions or selecting distributions from a list.
Hide Old Batches by Date – Allows the user to hide records that have a batch postdate older than a selected date based on the selected criteria.
"You can do or be anything. The only thing stopping you, is you."
– Theresa Waters, Juris Professional Services Consultant
Theresa Waters, a new Juris Professional Services Consultant, has been with the RELX family of companies for five years, joining the Juris Professional Services team in early 2020. Theresa has a B.S. in Business Administration (Accounting) from Columbia College, as well as a Master's in Forensic Accounting from Webster University. Theresa has over 20 years of experience with accounts receivable and billing processes, as well as forecasting and data analysis.

Juris 3.1—Revolutionizing Trust Accounting for the Modern Law Firm
Watch this webinar recording to learn how Juris 3.1 is reinventing the way you accept retainer and IOLTA payments through the enhanced payment integration with ClientPay®, an AffiniPay solution.
The enhanced version of the Juris and ClientPay® integration allows your firm to seamlessly process and post payments for both earned and unearned fees in a single payment environment and without leaving Juris. The following webinar topics covered were:
Faster payment and removed burden in manual A/R processes for retainer and IOLTA payments.
Compliance with ABA regulations and how to avoid commingling of funds while accepting credit card, debit card, and eCheck payments for your trust accounts.
Integration of payment acceptance processes with Juris 3.1 to seamlessly support integrated processing for earned and unearned fees in a single environment.
A trust account is necessary to protect both your clients' funds and your bar card. Attorneys who receive retainers from their clients take on the role of a fiduciary, per their state bar's rules. Up to and until the attorney has worked that case and billed the client for said work, the money in that IOLTA (also referred to as a trust account in many jurisdictions) is the property of the client. Misuse of those funds is, in essence, theft.
All state bars require you to do some sort of accounting and reporting regarding your trust account. To properly accomplish this, you must maintain a record of all receipts and payments of funds for each client. Read our latest blog post to find out how the partnership between Juris and ClientPay® helps attorneys to track and segregate client funds a lot easier with the use of our software program designed specifically for trust accounting.
We want your feedback
Tell us what you found most valuable about this month's newsletter and/or
what you would like to see next month.
GO AHEAD
Don't forget to follow us and stay updated!