Juris Newsletter
JULY 2020
Watch for the new version of Juris Go soon!
LexisNexis® Juris® Go mobile app makes timekeeping even more simple and effortless, giving timekeepers the right tools to enter complete and better timekeeping, more accurate billing, and maximized profitability for your firm.
New to Juris Go? Sign up today for your complimentary 30-day trial.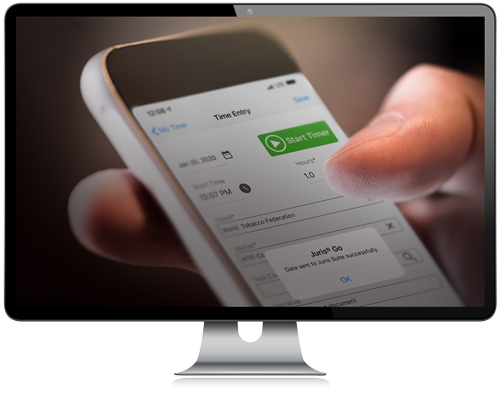 What is the current version and why should
I upgrade?
The latest Juris version is 2.8.6 and it was recently released. We recommend that all firms upgrade as soon as they can. This is the most stable version of Juris and each one we release in the future will further improve quality and functionality. Some highlights:
Older versions of Juris typically are run on outdated and unsupported Microsoft® platforms while Juris 2.8.6 is compatible with the latest. Running old versions of software presents a significant risk of downtime.
The Prebill selection engine has been re-engineered and is not much faster.
Short-term plans include integration with our payment processing partner, ClientPay®, improvements to the e-email bill feature, and an overhaul of Juris Suite Reports.
Please contact us to see what has changed since your specific version. If you are ready to upgrade now, our support team is standing by to help.
Are there costs associated with an upgrade?
As long as you have a support and maintenance plan, there is no fee charged from LexisNexis® associated with the actual upgrade. Our support staff will even guide you through the process. The only way you will incur costs from us is if you need us to convert a large number of bills and check formats. After this upgrade, some firms will need their bill and check formats updated. Our support team will do five bill formats and two check formats free of charge. If you want us to do more, then that would require Professional Services.
What's Inside the Juris Toolbox
Developed by our Professional Services team, the Juris Toolbox offers premium utilities that will help Juris users simplify day-to-day operations. Discover what's new to help boost operational efficiency:
Some key enhancements include:
Fee Schedule Copy Utility
Modify Payer Line in Cash Receipts
Split Management Utility
Vendor Discount Account Update Utility
Voucher Import Utility and more!
Benefits of Juris Time & Expense
One of the most popular modules in the Juris Suite platform, Time & Expense, can shorten your firm's billing cycles and speed up critical cash flow. It has a customizable time management dashboard that allows you to:
Get a real-time view of productivity
Record and maintain detailed time records
Enforce time entry compliance
Monitor attorney productivity
"Some relationships will be blessings, others will serve as lessons. Either way, never regret knowing someone. Everyone you encounter teaches you something important. There will be those people who will test you, some will use you, and some will teach you; but most importantly, there will be those who will bring out the best in you!"
— Kathy Baker-Elder, Sr. LexisNexis Professional Solutions Consultant, Juris
Kathy has worked with Juris for over 20 years providing guidance, business consulting, training, and accounting consulting to law firms across the United States and Puerto Rico. Kathy is a Senior Consultant with LexisNexis® and worked with Juris when it was still an independent company prior to the acquisition by LexisNexis in 2007. She has specialized knowledge in Billing, Electronic Billing, Law Firm Accounting, and is an expert in Juris/Juris Suite software. She has become a trusted advisor to and assisted hundreds of law firms across the country in developing the best business workflows and unique solutions for her clients.

Juris firms can process credit cards more effectively and
efficiently through ClientPay, saving an average of 17% on
processing fees and spending 50% less time on payment
management.
To get an inside look at how our Juris and ClientPay
partnership is going to optimize your credit card and eCheck
payment process, check out our Give Your Bottom Line a Boost infographic.
Now's the time to get started with secure and convenient paperless billing with ClientPay.
Our Juris product manager, Dan Beall, sat down with our new partner, ClientPay, to talk about the benefits of taking online payments for your firm—and for your clients. Read our Q&A blog post to learn more.
We want your feedback
Tell us what you found most valuable about this month's newsletter and/or what you would like to see next month.
GO AHEAD
Don't forget to follow us and stay updated!