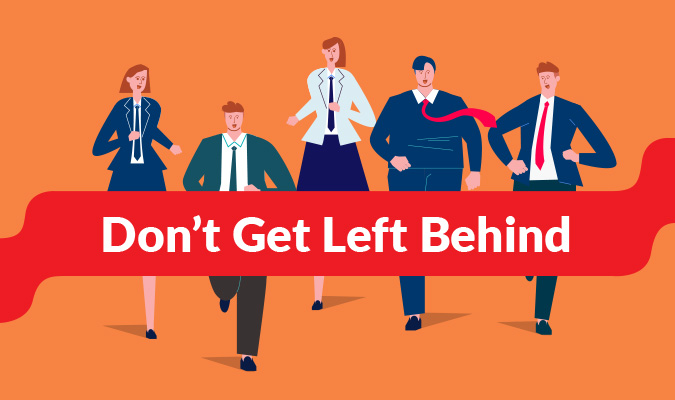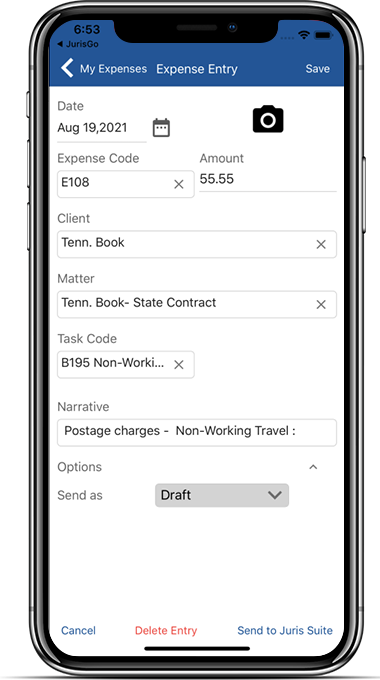 HIGHLIGHT
Keep track of receipts with the upcoming Juris Go release
Designed from decades of legal business experience and user feedback, LexisNexis® Juris® Go continues to make the billing cycle more efficient with a new version that captures expenses and simplifies receipt management from your smartphone or tablet—anytime, anywhere. Simply snap, tap, and capture receipts, and each receipt becomes an expense attachment within Juris.
Entering expenses in Juris Go will be quick and easy with existing features such as:
Voice-to-text
Full-screen narrative box
Automatic spelling correction
Keep an eye out for our email notification as soon as the newest version of Juris Go is ready for download on iOS and Android.
Designed to improve efficiency in the areas that impact your firm the most, Juris 3 delivers time, billing, analytics, and accounting software to help you optimize productivity and profitability.
Built as the starting point for a new generation of Juris software, Juris 3 is enhanced with ClientPay® integration for improved collections and e-Billing, along with reporting capabilities to make informed business decisions that are based on easily accessed data.
Key Benefits of Juris 3 and ClientPay® Integration
Save up to 17% on processing costs
Cut time managing and processing payments by half
Give clients easy payment options, including a link via email
Process credit card transactions for matter trust account payments
Key Benefits of Juris 3 Reporting
Find the right report quicker and easier
View reports with more parameters, grouping levels, timekeeper options, search options, and more
Export Microsoft® Excel® reports formatted for printing
and viewing
Even More Benefits of Juris 3
Work seamlessly with over 25 usability enhancements
Email templates allow you to include text when using the Export and Email Bill feature
View client email addresses in Client/Matter Inquiry
Added client code and matter code on ClientPay® Invoice Payment Page
Date selection retained for editing transactions
Clear prebill preferences
Juris Suite client installation improvement
We encourage you to upgrade to Juris 3.1. Our latest technology is fully supported by Microsoft®—upgrading ensures that your Juris software is compatible with new versions and updates of Microsoft® and SQL Server®.

2021 ALA Annual Conference
Each law firm has its own set of unique challenges. At the 2021 ALA Annual Conference, Juris team members provided a wealth of knowledge to attendees to help improve workplace efficiency and increase profitability. We look forward to continuing our conversation with you. Schedule a meeting with one of our experts to explore the ways LexisNexis® can help you advance what's possible in your firm.

Support for legacy Microsoft® systems has ended
The Juris support team is here to help you ensure that Juris, Juris Suite, and Juris Go run optimally and seamlessly on the Microsoft® infrastructure your firm has installed.
As of December 31, 2020, Juris, Juris Suite, and Juris Go support is no longer available for the systems listed below. If you are using any of this software, Juris Support will help you migrate your Juris software to a supported version.
Note that Microsoft® will no longer issue security updates to these versions. Upgrading your infrastructure ensures that you are in compliance with the latest security standards.


Juris User Group
We invite you to participate in the Juris Virtual User Group meeting on a date that works best for you. You'll hear from law firm colleagues, market experts, and product specialists covering a range of industry topics. You'll also have the opportunity to ask our Juris Professional Services Consultant any specific product questions that you may have.
Tuesday, October 19 | 2 – 3:30 pm ET

Wednesday, November 17 | 2 – 3:30 pm ET

Tuesday, December 14 | 2 – 3:30 pm ET

Juris Client Matter Intake Module
While Juris and Juris Suite made it possible to streamline firm billing, accounting, and reporting, now you can improve firm efficiency even more with the Juris Client Matter Intake Module. With this Juris add-on, you can automate entering client and matter information and start recording time faster.
Download the brochure to learn how you'll spend a lot less time flipping through screens and entering client data, while finding it a lot easier to be more productive with the Juris Client Matter Intake Module.
"Mistakes are not fatal and failure is not final."
– Danielle Splendore, Juris Project Manager
Danielle is a results-focused and creative thinker who began her career shortly after graduating with a BS in Management Information Systems. Most notably, she worked for
Respironics (now Philips Home Healthcare) for 
over 10 years in various roles, starting as a programmer and ending as an e-commerce manager, managing a $40M B2B e-commerce site. While working there, she earned an MBA with a concentration in leadership. In between Philips and Lexis, Danielle held roles at smaller companies such as program and project manager. She happily landed at LexisNexis three and a half years ago, working for InterAction as a project manager. Danielle has hit the ground running to implement process improvements internally. Most recently, she was an integral part of bringing the Data Quality offering to market. She recently moved to the Juris group to help support their business.
Juris 3.1 upgrade delivers new enhancements and resolutions to over 25 customer-reported issues to make your day-to-day timekeeping, billing, and accounting faster and more efficient. The Juris team is here to make sure you have a hassle-free upgrade process, with this three-step guide to get started:

Step 1: 
Download
the System Requirements document and confirm with our Juris Customer Support team if your environment meets the necessary system requirements by completing a network evaluation.

Step 2: Schedule an appointment with our Juris Customer Support team.

Step 3: Check out our optional White Glove Professional Services for expert planning and guidance.
Ignoring software updates? Here's why you shouldn't…
Ignoring software update notices may seem harmless, but it may actually put your software and data in danger. Security issues, compatibility crashes, and sluggish performance are just some of the many possible issues that affect out-of-date software. Read our blog post to find out why you should keep your software and apps updated.
With Juris, our Professional Services team can help you avoid these compatibility issues and software interruptions by updating to Juris 3.1. Contact your Juris Professional Services team to experience improved quality and usability of the software with new enhancements and resolutions that remove obstacles to firms' daily productivity.
We want your feedback
Tell us what you found most valuable about this month's newsletter and/or
what you would like to see next month.
GO AHEAD
Don't forget to follow us and stay updated!